Banner 9 Implementation Update
Project Overview
Welcome to the Banner 9 website! This will be your one stop destination for Banner 9 implementation, providing you with useful information such as a roll out plan of Banner modules, what's new in Banner 9, and much more.
Banner 9 supports improved functionalities, provides new tools and modules, and enhances user experience.
Why Banner 9? Ellucian, the provider of Banner, is moving away from using Oracle forms where all the admin forms were built in Banner 8 to different technologies. Banner 9 replaces underlying Banner 8 technology that is being phased out, including Oracle Forms. It also eliminates the need to run Java (JRE) in the browser. With the launch of Banner 9, you will use a new single sign-on application called Application Navigator to perform all the administrative functions you once completed on Internet Native Banner (INB).
This project will require a new infrastructure, application development, integration, module deployment, and testing. The Banner 9 upgrade will impact faculty, staff, and students, as well as most campus functional areas such as Admissions, Registrar, Student Accounts, Financial Aid, Advancement, Human Resources, Finance, Payroll, etc.
Project Objectives
Current Analysis

Identify all Oracle forms customizations that need to be developed.
Add Banner Extensibility
Determine infrastructure needed for Banner 9.

Foundation

Implement initial Banner foundation components and prepare for upgrade.

Software Development

Build software development skills for the new development framework to perform needed development for custom forms. 

Deployment and Testing Plan

Review new Banner 9 Admin pages with stakeholders to confirm how the new pages and applications solve business needs.
Develop a secure Banner 9 deployment and testing plan that mitigates impact for functional units and IT Applications

Implementation

Implement Banner 9 modules with testing, training, documentation, and support.
 Project Rollout Approach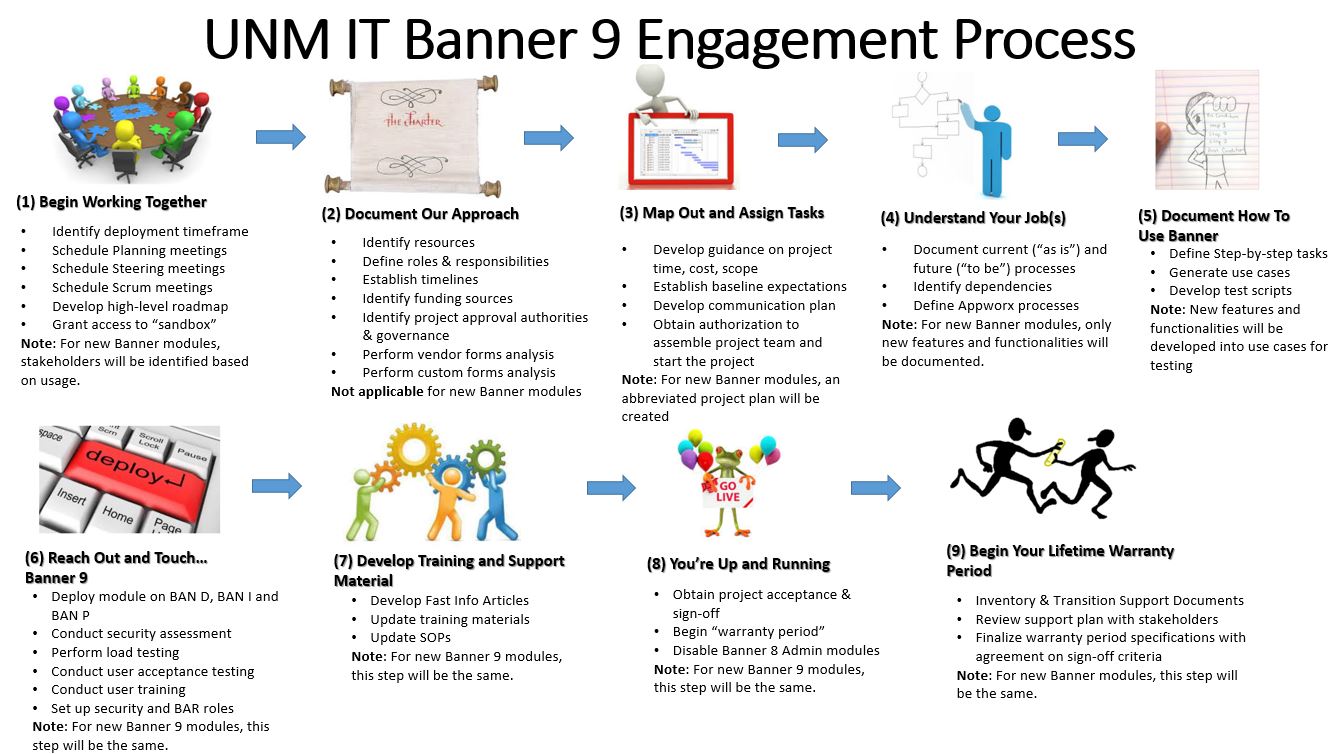 Begin Working Together

Document Our Approach

Map Out and Assign Tasks

Understand Your Job(s)

Document How To Use Banner

Reach Out and Touch... Banner 9

Develop Training and Support

You're Up and Running

Begin Your Lifetime Warranty

UNM Project Team

80-130

Hours

80-100

Hours

50-80

Hours

60-80

Hours

40-70

Hours

60-80

Hours

60-70 

Hours

20-30 

Hours

20-30 

Hours

Customer Team

40-80 

Hours

20-30

 

Hours

10-25 

Hours

30-40

 

Hours

10-20

 

Hours

40-50

 

Hours

40-50 

Hours

10-20 

Hours

10-15 

Hours
*Please note these are estimates and will vary depending on the complexity of your Banner module.